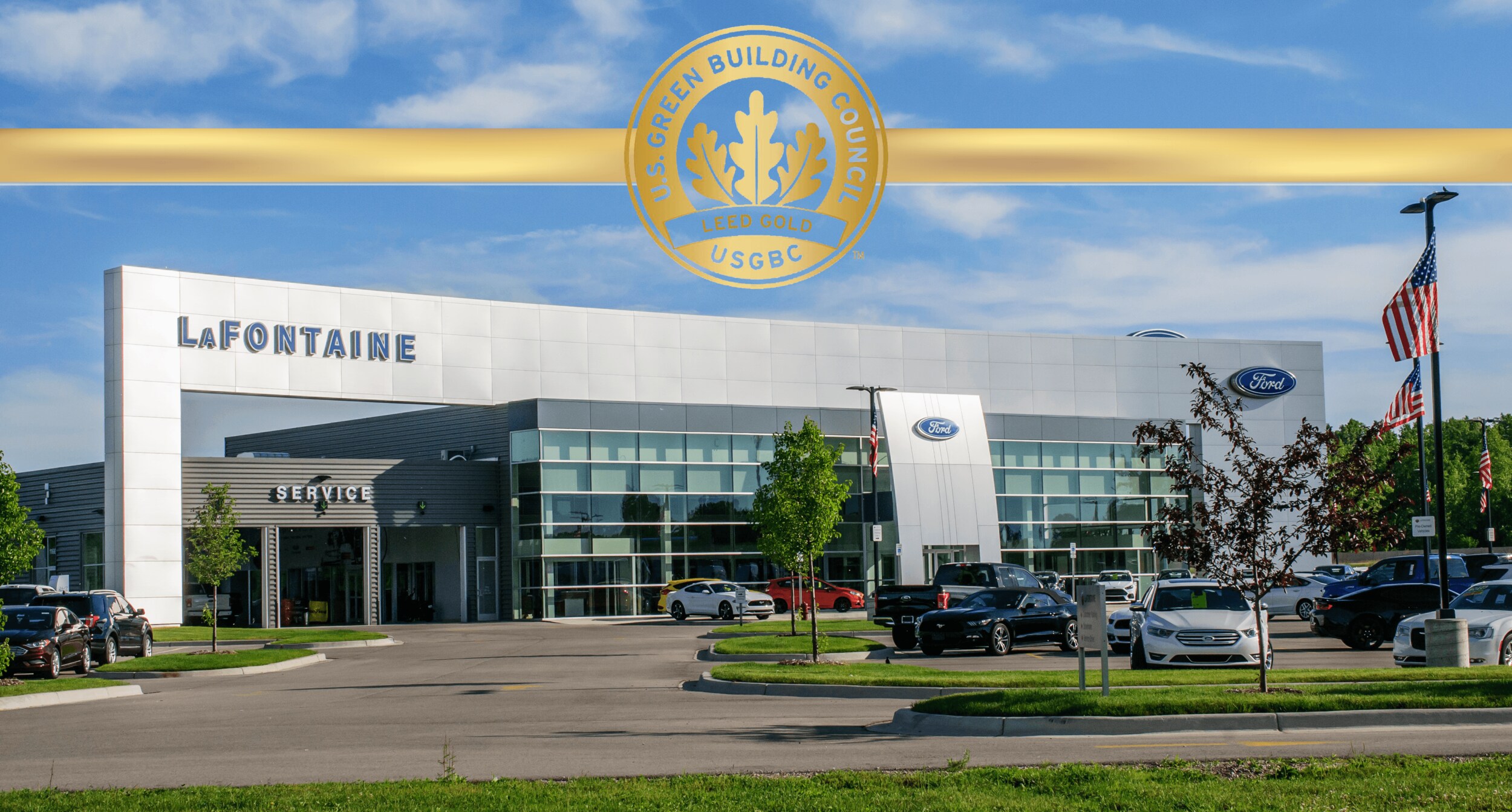 LaFontaine Ford Birch Run is very proud to be recognized as the Ford Motor Company's only Gold LEED Certified dealership in the world. LEED, or Leadership in Energy and Environmental Design, is a certification program through the U.S. Green Building Council for buildings and communities that guides their design, construction, operations and maintenance toward sustainability. It's based on prerequisites and credits that a project meets to achieve a certification level: Certified, Silver, Gold and Platinum. The LaFontaine Automotive Group has achieved LEED Certification in four storefronts: Gold Certified Cadillac Buick GMC of Highland, Gold Certified Ford of Birch Run, Silver Certified Volkswagen of Dearborn, and Silver Certified Chevrolet of Dexter. The LaFontaine family is proud to participate in this program and remains committed to ensuring their facilities are designed with a positive customer experience in mind, all while being extremely environmentally and resource efficient.
What is LEED Certification?
Leadership in energy and environmental design (LEED) is a certification program focused primarily on new, commercial-building projects and based upon a points system. LEED buildings use less water and energy and reduce greenhouse gas emissions and are resource efficient.
Materials & Resources
*Steel: *90% recycled steel and made locally
*Green Masonry: 40% recycled content
*Recycled Aggregate
*Regional Material & Recycled Content
*Certified Wood: 50% wood-based materials
*Storage & Collections of Recyclables
*Construction Waste Management
Sustainable site development
*Roof will have a solar reflectance (SRI) index value greater than 78
*Light pollution reduction
*Storm Water Design - Quantity and Quality Control
Indoor environmental quality
*Ventilation
*Natural Lighting & Line of Sight
*Service Department Hydraulic Lifts
*Low-Emitting Materials
*Thermal Comfort Design & Verification
*Additional Integrations
Innovation and design
*LEED Accredited Professional
* LaFontaine Ford of Birch Run educates our customers about the integrated LEED systems incorporated in the facility as well as local and global environmental information.
Water efficiency
*Water Efficient Plumbing Fixtures
*Landscaping and Irrigation
*Car Wash
*Reduces Water Consumption by 40% (80,000 Gal Per Year Savings)
Energy and atmosphere
*Electricity costs are 100% offset by solar renewable energy.
*All HVAC equipment will be 90+ efficiency units.
*The building will utilize an energy management system for efficient operation. We have all LED energy efficient light fixtures and R-40 insulation on the roof.